by Nancy Sims Thornton



The Ousley Family has been traced back to Somerset, England where John Ousley was born on December 12, 1630. John became Vicar of Stogursey in Somerset in 1652. He married Dorothea Poyntz, the daughter of Captain Newdigate Poyntz. John and Dorothea had twelve children. He died in 1687 and Dorothea died in 1705. Both were buried at Gloosten Parish Church where he was Rector of the Parish for twenty-eight years.

Their son, Thomas Ousley, was the first to come to the Colonies of America arriving about 1677. He died in Stafford County, Virginia in 1700. His son, Thomas Ousley, had ten children born in Virginia and named them in his will in 1751. Newdigate Ousley, son of Thomas, served during the Revolutionary War in Virginia. After the war he received land on Fishing Creek in Wilkes County, Georgia. His brothers, Welding and John Ousley, were also in Georgia before 1790.

A number of Ousley family members were in Alabama Territory prior to 1819. Points Ousley, born about 1790 in Georgia, was married June 26, 1811 in Jasper County, Georgia to Martha "Patsy" Tingle. He sold his land in Jasper County, Georgia in 1824 and migrated to Alabama. The Census Record of Bibb County, Alabama for 1830, 1840, 1850, and 1860 recorded Points Ousley living in Bibb County. Points Ousley died in 1863 in Bibb County. He was the father of nine children. His son, Charles Thomas Ousley, was married twice to sisters, Sarah and Angeline Shepherd. Charles Thomas and Angeline Shepherd Ousley are buried in Alpine Baptist Cemetery in Chilton County. Sarah Jane Shepherd Ousley and three of her children are buried in Ousley/Boggs Cemetery in Chilton County.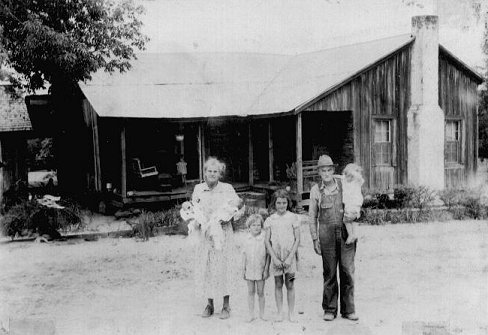 When Baker/Chilton County was created, the land owned by The Ousley Family became a part of Chilton County. The Old Home Place of Charles Thomas Ousley, pictured above, was built about 1854. The original two-room log house had rooms added as the family increased. Charles Thomas had four children by Sarah before she died in 1866 and three children by Angeline.
Mattie Amelia Ousley, the youngest child, was born March 25, 1874 in The Old Home Place of Charles Thomas Ousley. When she married William Arnold Johnson in Chilton County in 1896, they lived with the aged parents and cared for them until their deaths in 1908. She inherited the home place and reared her family of eight children in Chilton County.
My name is Nancy Sims Thornton and Mattie Amelia Ousley Johnson was my great grandmother. All the grandchildren and great grandchildren called her "Big Mama" and William Arnold Johnson was "Big Papa". There were eight children born in The Old Home Place where Big Mama had been born. They were Vonie Golden (1897), Willie Newton (1898), Thomas Franklin (1901), James Preston (1903), Frances Cordelia (1905), Lula Vermel (1907), Louis Sentive (1915), and Leon Earl "Buck" (1916).
Two of the girls, Willie Newton and Frances Cordelia, married the Sims Brothers and their children were double first cousins and always had a very close relationship. Willie Newton Johnson married Henry Lee Sims in 1917. Their son and my father, Henry Lee Jr, was born in 1918 and just two years younger than his Uncle Buck.
Henry Lee Jr. was the first grandchild and the apple of Big Mama's Eye. When Willie and Henry would come for a visit from their home on Morgan Road, Big Mama would always try to keep her favorite grandson with her. And when he grew up and was going to be married, she put my mother, Lois Mae Headrick, to the test to see if she was good enough for her grandson.
Henry Lee Jr. took Lois to meet Big Mama for the first time. Big Mama paid a visit to the smokehouse and dug deep in the sawdust for the ham that she knew was her grandson's favorite. When she came into the kitchen, she told Lois, "Now you make the biscuits while I get the ham ready to cook." She wanted to be sure that Lois could make good biscuits before she gave her approval for the wedding. Lois passed the test with flying colors because she was an excellent cook. The wedding took place in 1941 and lasted fifty-six years. Lois Mae Headrick Sims died in 1997.
William Arnold Johnson died January 27, 1946 and Mattie Amelia Ousley Johnson died June 26, 1952. Both were buried in Alpine Baptist Cemetery located by the church they had attended all of their lives. Since I was born two years after Big Mama died, I only knew her through my dad, her favorite grandson, who told me about her all of my life.
---
Sources:


The Johnson Family Bible
HERE WE REST by Evelyn Bailey
Census Records of Bibb County and Chilton County, Alabama
Cemeteries of Chilton
Alpine Baptist Church Minutes
Oral Family History