January 2022
Winter Meeting
Tentative 1/9/2022


April 2022
Spring Meeting
Tentative 4/10/2022


July 2022
Summer Meeting
Tentative 7/10/2022


October 2022
Fall Meeting
Tentative 10/9/2022


Clay Carroll, Professional Baseball Player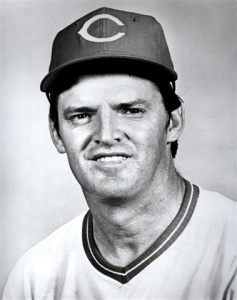 Clanton native Clay Palmer Carroll pitched in the major leagues from 1964-1978 with the Milwaukee/Atlanta Braves, the Cincinnati Reds, the Chicago White Sox, the St. Louis Cardinals, and the Pittsburgh Pirates.

Carroll was initially signed by the Milwaukee Braves as an amateur free agent in May 1961 and made his major league debut at age 23 against the Cardinals on September 2, 1964, hurling two shutout innings.

He is known most notably as a member of the Cincinnati Reds dynasty that won three division titles, one National League pennant, and the 1975 World Series.

Carroll pitched in three World Series for the Reds, including the 1975 Series which the Reds won in seven games over the Boston Red Sox.

Carroll starred in the 1970 World Series, the Reds vs. the Orioles. He appeared in four of the five games, hurling nine shutout innings with 11 strikeouts. Carroll, along with rookie Don Gullett, paced an injury-riddled staff that was otherwise ineffective against Baltimore. Carroll was the winning pitcher in the Reds' only victory in game 4 of the Series.

In the 1972 World Series, the Reds vs. the Oakland Athletics Carroll pitched in five of the seven games and was credited with a save in game 3. The Atheletics won the series 4-3.

The 1975 World Series was between the Cincinnati Reds and the Boston Red Sox. EPSN ranked the 1975 Series as the 2nd best of all time in their World Series 100th Anniversary list. In the seventh game Carroll pitched in relief in the bottom of the 7th and the 8th innings when the game was tied 3-3. The Reds pulled ahead in the top of the 9th inning and Carroll was credited as the winning pitcher. That game appearance was his 14th game in a World Series and placed him as having the 5th most career World Series pitching appearances.

Carroll's only home run was on May 30, 1969 while playing for the Reds against the St. Louis Cardinals. The home run was on a full count against Bob Gibson with two outs in the 10th inning, with the game tied 3-3. He pitched 3 hitless innings in relief, including the bottom of the 10th.

Born: May 2, 1941, Clanton, Alabama
Batted: Right
Threw: Right
MLB debut September 2, 1964, for the Milwaukee Braves
Last MLB appearance October 1, 1978, for the Pittsburgh Pirates

MLB Statistics

| | |
| --- | --- |
| Win-loss record | 96-73 |
| Earned run average | 2.94 |
| Strikeouts | 681 |
| Saves | 143 |

Teams
Milwaukee / Atlanta Braves (1964-1968)
Cincinnati Reds (1968-1975)
Chicago White Sox (1976)
St. Louis Cardinals (1977)
Chicago White Sox (1977)
Pittsburgh Pirates (1978)

Career Highlights and Awards
2× All-Star (1971, 1972)
World Series champion (1975)
NL saves leader (1972) (his 37 saves stood as the record until 1984)
Cincinnati Reds Hall of Fame (class of 1979)
Alabama Sports Hall of Fame (class of 1992)



Personal Life
Carroll was one of nine children of a cotton mill worker. He went to Chilton County High School and also worked many jobs, including as a curb-service boy at Driver's BBQ, at the cotton mill where his father worked, and loading watermelons.

Carroll married Judy Haynes in September 1964 and were the parents of daughters Connie and Lori and son Bret. The Carrolls divorced in 1981.

In 1983 Carroll married Frances Nowitzke, who also had three children. During a November 1985 shooting in their home in Bradenton, Florida, Carroll was wounded, and his wife Frances, 53, and son Bret, 11, were shot and killed by Frances' son, Frederick.