January 2022
Winter Meeting
Tentative 1/9/2022


April 2022
Spring Meeting
Tentative 4/10/2022


July 2022
Summer Meeting
Tentative 7/10/2022


October 2022
Fall Meeting
Tentative 10/9/2022


Jack Hayes, Professional Baseball Player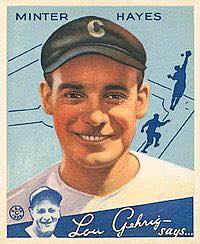 Some content courtesy Scarlett Ray Teel

Clanton native Minter Carney "Jack/Jackie" Hayes was born 1906, the son of Clanton Dr. Julius Poe (Sie) Hayes and Mrs. Celeste Jones Hayes. He had brothers, Mr. Dick Hayes, Mr. Alec Hayes and a sister, Mrs. Kathryn Hayes Wade. He graduated from Chilton County High School in 1926.

Jack Hayes was a sophomore shortstop at the University of Alabama when he signed with "Johnnie Dobbs' famous Birmingham Barons" in June 1927. He was immediately "sent up" to the Washington Americans/Senators of the American League, whom he played for until 1931. He then played for the Chicago White Sox from 1932 to 1940 at the short stop position or as a third baseman. He was said to be the "best double play artist in the league."

He also played for the "Roanoke and Abbeville teams in 1926-27."

He was the first one of the major league players to ever wear a batting helmet. He was already suffering from glaucoma before going blind, so he wore the batting helmet to protect his head and eyes from any further damage. Later the batting helmet became standard procedure, as it is now, for batters in the batting box.

Jack Hayes was a joint owner of Hayes Chevolet in Clanton at least as early as 1935, with his brother Dick Hayes.

His career ended in 1940 after he developed glaucauma in one eye. Eventually it blinded the other eye as well. He moved back to Clanton and lived there the rest of his life. He held public offices such as tax collector.

In 1978 Clanton's largest baseball field was named the Jack Hayes Field in his honor. Mr. Hayes played golf in tournaments of the Blind Golfers Association with Mr. Fred Sington, a blind golfer from Birmingham, Alabama.

A story was told that at one of the golfing tournaments in Birmingham in which Mr. Hayes played, that the golfers were asked if any of them had anything to place in the hotel safe for safe keeping and as a joke, one of the blind golfers took out his glass eye and handed it to the poor fellow asking, grossing him out!

Mr. Hayes trained with and used seeing eye service dogs for many years after becoming blind. His first dog to serve him was a boxer named Abono. Abono is the service dog buried in the Clanton City Cemetery. For many years, Mr. Hayes and his faithful service dog, Abono, were a familiar sight walking very ably around the sidewalks of Clanton. Mr. Hayes ran for Chilton County Tax Collector and was elected to that post in which he served for fourteen years.

He married Alice Brooks, from Andalusia, on October 21, 1926. In later years she helped him in the office of Tax Collector. Mr. Hayes and his wife were parents to a son, Mr. Jackson Poe Hayes, and grandparents to two grandsons, Mr. Minter Jackson Hayes and Mr. Samuel Brooks Hayes of Chilton County.

In the mid 1970s, Mr. Minter Carney "Jackie" Hayes of Clanton, Alabama was recognized for his talents and inducted into the Alabama Sports Hall of Fame in Birmingham, Alabama. The year he was inducted was the same year that Mr. Bart Starr, Coach Shug Jordan and Coach Bear Bryant were also inductees.